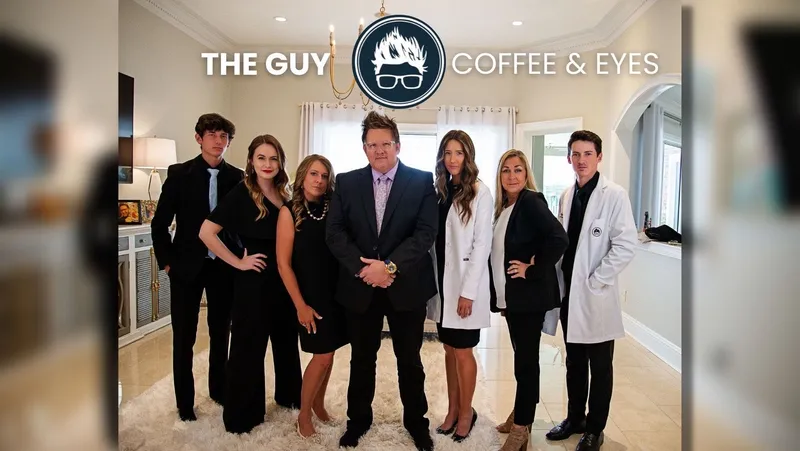 Spectacle frames, eyeglass frames, eyeglass lenses, designer frames, or simply eyewear frames are made from glass or hard plastic lenses. Whether it's prescription lenses or bifocal lenses, all eye lenses are kept in place via eye frames. Eyeglasses frames are held in front of the wearer's eyes, using arms that go over the ears and a bridge that goes over the nose.
Eyewear Stores
For
Prescription Eyewear
Prescription eyeglasses are used to correct specific vision problems like blurred vision and vision impairment. For example, reading glasses and prescription reading glasses can be used to correct farsightedness and nearsightedness. If your eye vision is struggling, then reading eyeglasses can help. So buy reading glasses from the best eyeglasses store in Pensacola, 50 Dollar Eye Guy.
Eyewear Glasses
For Sports
Safety eyewear can protect the eyes from flying debris and other flying particles that can cause eye problems. These types of eyeglasses are designed for lab technicians, construction workers, and others who work in industries in which debris is common. Safety optical eyeglasses are sometimes designed to protect the sides of the eyes and the eye lenses themselves. There are also glasses that protect from radiation, near-visible light, and things of that nature. Protect your eyes so that you do not have any eye emergencies to where you need to see the eye doctor.
Players in some sports like to wear protective sports eyeglasses. Basketball is one of those sports. Sports eyewear is worn to protect the eyes during sporting activities. Prescription sports glasses are equipped with straps, which are designed to prevent them from falling off. Sports glasses also may be attached to a cord. The wearer will keep the cord around their neck. This is so they do not lose the glasses frames. You may need to find an eye doctor to get the proper prescription glasses that you will need so you can see your best while playing your sport. So, if you are searching for an " eye doctor near me", make sure you come to see us at 50 Dollar EyeGuy. We have some of the best eye doctors in Pensacola Florida.
Best Prescription Sunglasses
From
Our Local Eye Doctors
Sunglasses allow a person to see better in bright daylight and the polarized lenses protect the eyes against UV light. Most polarized sunglasses are darkened and there are transition lenses that are clear when there is no light but darken when exposed to light. However, most polarized prescription sunglasses do not correct vision problems like sudden blurry vision, deteriorating vision, or a severe cataract but there are prescription sunglasses that are specifically designed to help with vision correction.
There are specialized rx eyeglasses that can be used for viewing visual content. For example, if you want to watch a 3D film, then you can wear a pair of 3D prescribed eyeglasses. Eyeglasses Pensacola come in a range of eyeglass frame styles, and many people wear optical eyeglasses for fashion purposes. Popular materials used to make designer glasses include wire and plastic.
The older people get, the higher the chances are of needing prescription lenses for glasses. In fact, more than half of adults between 65-75 buy prescription glasses or will order prescription glasses at some point.
As you can see, eyeglasses in Pensacola FL are important and people wear them for many reasons.
Eye Doctor Near Me
– Find Your New
Optometrist
At The Fifty Dollar Eye Guy
When your vision isn't what you need it to be, life can be well, difficult.
We know that, and we get that and that is when you need to visit a vision centers near me like us at 50 Dollar Eye Guy. We offer low cost eye exams.
Regardless of how you ended up on our eyeglass website, we'd like you to keep reading because we think you have FINALLY found your eye doctor.
There are a couple of things that come up when we see new patients at our optical store.
It usually sounds a little like this:
They had difficulty just getting in to see their last

eye doctor

Their last appointment was uncomfortable and they didn't know what was going on during their

walk in eye exam

The

eye exam cost

(even with insurance) was just TOO high

They didn't really offer many options when it came to coverage and financial alternatives

The dilation process was overwhelming and they had difficulty just walking out of the

eye exam
Sound familiar at all?
The problem isn't you.
The problem isn't the "other eyeglass stores."
Sometimes, it's just not a good fit.
And just like the perfect pair of designer optical frames, if the designer eye frames just don't fit right on your face, you need to scrunch your nose, wiggle your face, or may even get some tension headaches from the uncomfortable fit.
We want you to know that our optometrist and opticians we'll do our absolute best to make sure it's a good fit – financially and otherwise.
Our eye doctor will work one-on-one with our patients. When you become a patient of ours, you become a part of our eye care family – plain and simple.
Why Choose Us As Your Eye Care Center In Pensacola?
Our vision center has been around for quite some time and has a track record to prove why you should choose us for all your eye clinic needs.
However, this is about you not about us.
Some of the problems that we see arising in the eye care industry are things like long wait times for eye exams and glasses, discomfort with the service provider and eye associates, and high costs.
Here at Fifty Dollar Eye Guy, we don't just choose any optometrist that walks through the door.
We have a very selective process as we know that our eye clinic, our livelihood, and our reputation hinges on the type of eye exams and services that we provide.
We select our Eye Doctors and Eye Care Professionals through many other requirements besides what shows up on a resume.
We make our decision based on things such as:
Professional Eye Care Experience

– Okay, so SOME of the resumes counts, we won't deny that. We want to be sure that anyone that works for our

eye vision center

has the kind of professional experience that we require.

Eye Care Associates With A Professional Demeanor

– Your interactions with our

eye care professionals

are of the utmost importance. We want our

eye care optical

staff to ensure that you are getting THE top quality service you deserve each and every time you come to one of our locations.

Dedication To Personalized Vision Eye Care

– In this fast-moving world that we live in, all too often

vision centers

are trying to get patients in and out the door. Other

eye clinics

with this mentality work well for us because we do just the opposite. We want you to know that we are dedicated to one-on-one

vision care

.
From the minute you walk in for an eye appointment, we want you to feel the comfort level and professionalism.
We want you to know that YOU are our top priority.
How do we do that?
Here are just a few ways:
Eye Doctor Appointment Scheduling

– We know just how difficult it can be to get an

eye doctor appointment

, so we will do our best to accommodate your busy schedule. We won't fit you in where we can. We will do our very best to work around your schedule. We also offer

walk-in eye exams

.

Financial Vision Exam Alternatives

– This is usually one of the biggest concerns that we have with new clients. Rest assured, we not only understand the process of insurance coverage, but it's one of the reasons that we get new clients. Our

eye care associates

at Fifty Dollar Eye Guy will work with you personally to help you better understand the current

vision coverage

that you have from your insurance provider. Our

vision center

will also help you to find financial alternatives so you can get the best

eye care

possible.

No Dilation Procedures

– Wait, what? Yeah, you read correctly.

Eye dilation

is crucial in many

eye exams

. If they are crucial, then what's the big deal? The big deal is they can be extremely uncomfortable. Here at Fifty Dollar Eye Guy, our

eye drs

have no-dilation pain free Optomap exam technology. See, we promised you comfort.
So if we are doing a tally, during your eye check you'll get…
One-on-one personalized service to meet all of your needs from our

eye optometrist

.

Financial alternatives that will provide you with the best opportunity to get the best eye care from our

vision doctor

.

Pain-free no-dilation procedures
Still not convinced?
Let's see what some of our other patients have said.
"My husband just got glasses at fifty dollar eye guy and was blown away by the amazing prices! A couple of prescription glasses along with prescription sunglasses for less than we've ever paid elsewhere! He said everyone was nice and wonderful!"
- Megan W.
"I have bought glasses and contacts with Fifty Dollar Eye Guy for years. I have always been welcomed and treated like I was family. The staff is friendly and the prices are great. I always recommended my family and friends when I know they are looking for any eye care needs. One of my favorite things is they under promise and over deliver!"
- Patrick W.
"I just wanted to say how much I appreciated the service that we received at the Davis location on Saturday. It is so nice to be on the receiving end of courteous and professional care.. My daughter was treated with respect and was put completely at ease through the entire process. We were able to meet with and talk to Mark the "fifty dollar eye guy" and very quickly learned why he deserves our repeat business. Mark without hesitation expedited the process and my daughter was in to her first pair of glasses. Throughout the process his staff was thorough, professional, knowledgeable and helpful which of course was key to the expeditious results and treatment that we received. To anyone that is looking for new glasses or if your not satisfied with the service that you have received elsewhere please give the "Fifty dollar eye guy" a try. Trust me you will want to go back. By the way she loves the glasses."
- Veronica C
We aren't just an eyeglass shop.
We do so much more than that.
If you have any kind of vision problems, then we can offer you an affordable eye exam that you need to get your vision corrected as soon as possible.
Here are just a few of the
eye vision
services that we have to offer:
These eyesight tests are anything but routine. While an eye test is done on a regular basis, these eye vision tests help us as well as you, to
see (no pun intended) if there are any improvements or corrections that need to be done to your vision.
We run a series of eyesight tests, we assess all the movements of your eyes and do an overall evaluation of your eye health. By doing such vision exams and tests, we can ensure that your vision is optimal at all times. Come see our vision clinic today!
Are you looking for an alternative to glasses? If this is your first time in getting eye contacts, our optometrist can give you a wide variety of options when it comes to your prescription contact lenses such as whether you should get daily contact lenses, coloured contact lenses ( prescription colored contacts and non prescription colored contacts), bifocal contacts, Acuvue contacts, hard contact lenses, night and day contacts, monthly contact lenses, progressive contact lenses, disposable contact lenses, toric contacts, Bausch and Lomb contact lenses, contact lenses for dry eyes, and trial contact lenses.
There's a lot to take into consideration when you are thinking about contact lenses, which is why you'll want our contact lens store on your side to answer any and all of your contact exam and lens questions.
Lasik
Eye Surgery Pensacola
Thinking about Lasik? Here at Fifty Dollar Eye Guy, we can help to ensure that your Lasik surgery procedure runs as smoothly as possible by offering you pre and post-operative optical exams.
If you are in the market for a pair of new eyeglasses or new sunglasses in Pensacola FL, then look no further than your eye specialists here at Fifty Dollar Eye Guy.
We can fit you with a comfortable pair of designer eyeglasses or sunglasses to fill all of your visual and designer needs. We'll also work with you to find the best financial alternatives to pay for your new glasses.
What Now? Come See Our Optical Doctor And Get An Eye Examination Test
If you have been experiencing deteriorating vision, astigmatism vision, vision problems, or if you just need a new eyeglass guy in , please give our eye clinic a try.
Not only will you find our vision center to be pleasant, give you the personal attention you need and give you the financial alternatives that you'll want, but you'll also find us as the preferred eye care center in the Pensacola area.
We've got several locations that can serve you, but if you are ready to get started and are in the Pensacola Area, please give us a call at (850) 434-6387" class="piwik_ignore">(850) 434-6387 today.
Your vision isn't something that you can mess around with.
If it isn't attended to quickly, you could find yourself in some eye emergencies.
If you are ready to get started please contact one of our friendly staff today by calling (850) 434-6387" class="piwik_ignore">(850) 434-6387.
Our Approach to
Family Eye Care
Our one-on-one approach to family eye care makes us the eye and vision care providers of choice in the Pensacola area. Our independent eye doctors of optometry offer the following services: complete eye exams, contact lenses, eyeglasses, glaucoma testing, and pre and post-operative care. For a complete list of all our eye care services, visit our services page or call our Davis Highway office at (850) 434-6387" class="piwik_ignore">(850) 434-6387 or our Pensacola Blvd office at (850) 434-6387" class="piwik_ignore">(850) 434-6387.
At 50 Dollar Eye Guy, we are dedicated to providing high-quality eyecare services in a comfortable environment. Call us at one of our two Davis Highway locations (850) 434-6387" class="piwik_ignore">(850) 434-6387. Call Today!
Independent Doctors of Optometry | Fifty Dollar Eye Guy
5328 North Davis
Pensacola, FL 32503
(850) 434-6387" class="piwik_ignore">(850) 434-6387
6700 N Davis Hwy (Located inside Coffee Guy Cafe)
Pensacola, FL 32504