Welcome, folks! You're in for an informative ride about something incredibly vital for your overall health that tends to be overlooked - yes, we're talking about your eye health! Given our digital-heavy lifestyles, regular eye check-ups are of utmost priority. So friends in and around Pensacola, this positive nudge is for you. Stay tuned as we delve into the importance of eye exams and why you should schedule your Eye Exams in Pensacola with Fifty Dollar Eye Guy today. Let's look after those peepers together, shall we?
Eye Exam Services in Pensacola: Maintaining Optimal Vision
If you're in Pensacola, we strongly urge you not to overlook the importance of regular eye examinations at our primary eye center clinic. Maintaining optimal vision is our mission at our service centers. Our team of expert doctors specializes in eye care and eye checkups for all patients, pediatric and adult. We consider the full details of your eye health and strive to provide personalized care. Don't delete your eye health from your priority list! Regular eye checkups can help identify issues before they escalate.
Our eye centers in Pensacola are recognized for excellence by the vision care community. Our team of dedicated doctors is always ready to address your eye care needs with precision and compassion. Pencil in your schedule for a comprehensive eye exam at one of our medical centers. The clinic also features a contact center where you can pick up your glasses or contact lenses. We promise to provide detailed insights into your eyes and vision with our systematic eye examinations.
Protect your vision and keep your eyes at their best! Maximize your eye care at one of our service center clinic in Pensacola. Our doctors are trained to care for your eyes in the most professional and friendly way possible. Make your appointment at our primary eye center clinic today by giving us a call. Don't hesitate to trust in our team's ability for vision maintenance. Schedule your eye exam in Pensacola today and keep seeing the world in its full glory!
Eye Exam Pensacola: Dedication to Exceptional Service for Patients
At our Pensacola clinics, the primary goal of our team of professional optometrists and eye doctors is to offer dedicated and exceptional services to all our patients. We understand your concerns and strive to provide you with all the relevant information to assist you in taking care of your vision. At the Fifty Dollar Eye Guy, our Eye Exams in Pensacola, are more than just a team of professionals - we're a caring and compassionate family, here to cater to your unique eye care needs.
Our Pensacola FL clinic specializes in detecting any potential disorders early, ensuring that you receive the most appropriate and timely care. We also offer a wide range of contact lenses to suit your specific requirements. Whether you need lenses for daily wear or special occasions, rest assured, we have covered it all.
When it comes to service delivery, Our dedicated team of doctors are tireless in their pursuit of excellence. As some of the leading optometrists in FL, we have instituted a robust insurance policy that tailors your eye exam costs without breaking the bank.
We believe that regular eye exams are crucial for maintaining good eye health. Therefore, we encourage you to schedule your routine check-ups with us here in Pensacola. After all, it's not just about providing services to our patients, but about extending a hand of comfort and assurance. So, take the first step today towards maintaining your eye health. Get your eye exam with us, and let us take care of your vision.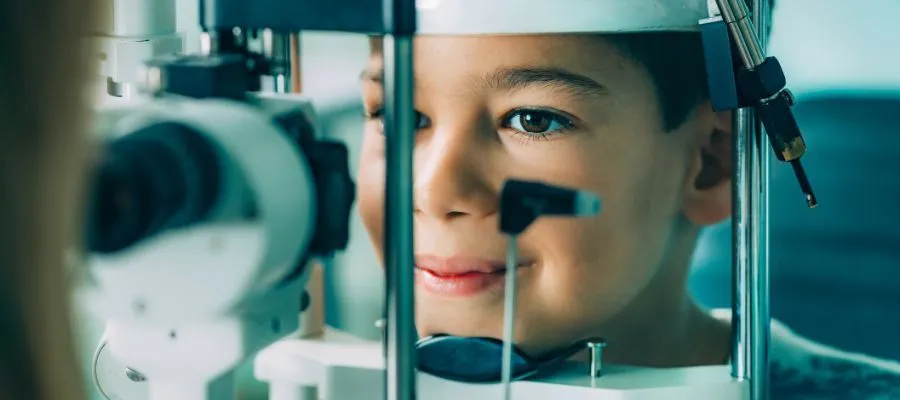 Why Regular Eye Exam is key to Maintaining Vision: Get Yours in Pensacola
Your vision is instrumental in your everyday life, and maintaining it through regular eye care, including eye exams, is crucial. Not only in Pensacola, but wherever you may reside. Your eyes are your windows to the world, and eye exams are a critical part of eye care, helping detect any potential disorders early. Whether you're in Pensacola or elsewhere, optometry services can assist you in maintaining your vision and eye health.
Contact lenses are a popular choice for vision correction and are a part of the range of choice solutions that optometry services have to offer. Regular eye exams ensure your eyes are healthy and that your contact lenses are the perfect fit. There is a variety of lenses available, from daily lenses to long-term ones. Be it Pensacola or anywhere else, good eye care can help determine which is best for you.
Insurance is often a concern when it comes to frequent eye exams. But don't worry, our office works with various insurance providers, ensuring our services are accessible to everyone. We offer a wealth of information in our office, guiding you to understand your insurance better. Let's not forget the fantastic range of contact lenses we have waiting for you. So why wait? Come and get your eye exams in Pensacola today!
Our Comprehensive Eyeglasses Guide: Making Vision Correction Stylish for Pensacola Patients
Hey there! At our Pensacola location, we prioritize the eye health of our patients, providing top-notch eye care, including comprehensive eye exams and a detailed eyeglasses guide. Need vision correction? With a wide variety of eyeglasses sure to fit any style, you don't have to compromise on aesthetics. Our optometrists are committed to ensuring that you sweep everyone off their feet with your trendy eye wear, while seeing the world clearer than ever!


Lenses are key in glasses and vision correction, and our team is here to guide you. Be it anti-reflective, multi-focal, or high-index lenses, we've got you covered. Using precision and care, we'll match you with the perfect lenses to meet your vision needs and lifestyle. Not only that, we also offer a wide range of glasses with different materials, styles, and designs. So, worry not, we've got something for everyone!
Still not clear on what to go for? Our eye care team will gladly walk you through our glasses guide to help you understand your vision needs better and help you choose a style that fits your personality. We also take insurance and offer affordable pricing options, ensuring that vision correction is attainable for all our patients. Don't wait any longer, schedule an eye exam and improve your vision with our stylish eyeglasses today!
Pensacola Premium Eyeglasses: Schedule an Appointment Today to Enhance Vision
If you're hunting for a dependable optometrist to boost your vision, get your eye exams in Pensacola and maintain your eye health. Advance your vision by scheduling an appointment with us today. It's integral to prioritize your eye health. Our vision is a prominent part of our lives, and we're here to aid you in maintaining yours. Our insurance-friendly office encourages you to learn more about our services. By contacting us, we offer beneficial appointments and extensive vision information.


Our office provides top-tier services, including a wide range of glasses suited for every style and need. Our services don't end at glasses; we offer premium Pensacola eyeglasses and bifocals designed to enhance your vision. We're confident that our choice of contact lenses will impeccably suit your eye needs.
We provide thorough eye exams at Pensacola, which are paramount in keeping track of your eye health. With your eye exams, our optometrists can identify any vision issues early, ensuring your vision remains at its optimum. An appointment call at our office is a step in the right direction for securing your vision. So don't wait, get in touch with us today and start your journey towards superior vision. Our services and our team are ready to become your partners in maintaining and enhancing your eye health.
The Pensacola offices commit themselves to supplying you with handy services. Whether you need an eye exam, insurance assistance, or even a new pair of glasses, we're here for you. Remember, your eyes deserve only the best services. So, drop by one of our 2 Fifty Dollar Eye Guy Locations in Pensacola for your eye exams today, and let's maintain your eye health together. Remember, your vision is our vision.
So there you have it! Keeping on top of your eye health is crucial and Pensacola is the perfect place to do it. Make sure you get your eye exams done regularly to keep your vision sharp and your eyes healthy. Schedule your exam today and guarantee a future where you can still see the beauty in every moment. Wishing you clear vision and great eye health, Pensacola!